Free Guide to a Safe Reopening by Westamerica Communications
Please feel free to forward this to somebody else in your company that may also be interested in this topic.
As a leading marketing service provider, Westamerica is recommending a three-phase strategy to reclaim your business following the COVID-19 episode:

First Things First
Get Healthy – implement new practices in line with guidelines, regarding:
✓ Social distancing and protective equipment
✓ Sanitation policies and practices
✓ Office behavioral changes, new protocols and instructional signage
Review Westamerica's catalog, Reopen with Confidence here for helpful examples and suggestions: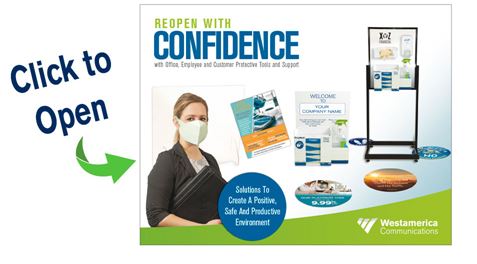 Get Growing Again!
Let Westamerica help you get growing again with our comprehensive marketing and business development support.
Download our free Marketing Planner for helpful promotional strategies to grow your business. >> DOWNLOAD MARKETING PLANNER