Welcome to the…

Where Policies are Xchanged for Hidden Value.
How do your producers help their senior clients afford retirement and long-term care when they Failed to Plan?
Exchange a death benefit for the real value of your senior clients' life insurance policies through the LifeCare Xchange:
√ Benefits: Healthcare and senior living expenses with a tax-free Long-Term Care Benefit
√ Income: Supplement retirement funds for life with an Immediate Income Annuity
√ Protection: Maintain partial policy without premium payments with a Paid-up Retained Death Benefit
√ Lump Sum: Enhance income with a Cash Payment
Producers no longer need to turn away anyone who needs help today because they failed to plan.
Producers can be appointed to access the LifeCare Xchange
** No additional licenses or CE's
** E&O Coverage Provided
** Compliant Marketing Materials
** Concierge Support Desk
** Compensation % of Face Value
Exclusive for Appointed Agents
How much is your book of business worth? Find out with a Policy Review.
The fastest way to help the most seniors possible before they lapse or surrender a policy is by reviewing your aging book of business to give you an indication of each policy's Xchange value. The Policy Review is an ongoing process to identify policy's that could be monetized and re-purposed before they fall off your book every year.
Our one-of-a-kind policy review process starts with a redacted/confidential analysis of your policy inventory to determine how much potential value there is for you and your clients. Then we help you monetize your book by identifying specific policies suitable for the LifeCare Xchange. We'll do outreach on your behalf to introduce the concept to your clients. We then work with policy owners to complete their policy Xchange. All of this at NO COST TO YOU!
Unlock the power of the LifeCare Xchange
The LifeCare Xchange is proud to be a member of Peloton and we look forward to working with you to help your producers uncover the hidden value of your clients' life insurance policies TODAY!
Click here to watch our recorded Webinar presentation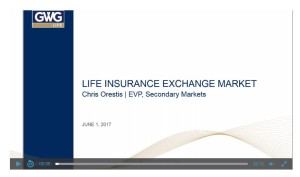 For more information about GWG Life and The LifeCare Xchange, please view our Frequently Asked Questions or visit LCX.gwglife.com.
Member Contact Information:
LifeCare Xchange
Chris Orestis, EVP Secondary Markets
220 S. Sixth St, Suite 1200 • MINNEAPOLIS, MN 55402
612.845.4566 • Toll Free: 877.494.2388
LCX.gwglife.com • corestis@gwglife.com
GWG Life, LLC ("GWG Life") is licensed as a provider in all states that regulate the secondary market for life insurance except for AK, LA, ND, NV and VT and licensed as GWG Life USA, LLC in IN. GWG Life's services include viatical and life settlement contracts. Only intended for residents in states where GWG Life is authorized to purchase life insurance policies.